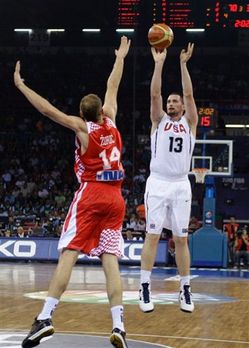 Playtime is over boys and girls — things are now serious for Team USA. Well, maybe not against Angola but after that. Lose one and you're done. Sixteen teams in a knockout tournament for the World Championship.
There can be no more bad games, it's time to put your best players out there for the most minutes.
Which begs the question, shouldn't Kevin Love and Eric Gordon be getting those minutes? Should they be starting?
Personally, I wouldn't start them because starting isn't where it's at — finishing is. Love and Gordon have earned the minutes because they have played well off the bench while the guys in front of them — starters Lamar Odom at center and Chauncey Billups in the backcourt — have struggled.
Odom has had some classic "disappearing act" games that Lakers fans know all to well, and it shows up in the stats. In nearly 20 minutes a game he is averaging 4.2 points on 47.6 percent shooting and 5.6 rebounds. Love is getting about half the minutes of Odom and is averaging 7.6 points on 59.3 percent shooting, and grabbing 6.6 boards. Love's rebounding has been nothing short of spectacular to watch in this tournament.
Love is not a great defender, and by that I mean not really even good or average either. But Odom has been no better. The one guy expected to be the defensive and rebounding specialist — Tyson Chandler — has been a foul magnet. Love has been the USA's best big.
Start Odom, because you need to see early on if this is one of his magical nights or his off nights. If it is the former, ride the wave. But if not, we'd love some extra Love. He has earned it.
The challenge with Billups is his three ball — he is shooting 21.1 percent in this tournament. Gordon is shooting 45.8 percent. From here on out, the USA is going to see a lot of zone. They've seen a lot, but they will see more and better varieties of it. The USA needs to do a better job with penetration and flash-cuts inside to the middle of the zone to get into its underbelly. But they also need to be able to shoot over the top of it. Kevin Durant has done that well (he does everything well on offense) but Gordon is the USA's best spot-up guy.
Again, start Billups, but if it is a zone game get Gordon in fast and play him a lot. Put him next to Derrick Rose, let Rose have the ball and drive the lane and Gordon will be floating around for the kick-out-and-three in a way Billups cannot.
The USA needs to go with the hot hands, the guys making plays right now. That is Love and Gordon. Play them because the guys playing the best deserve the run. Especially now when it counts.