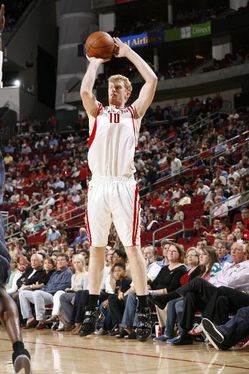 Now is the time of year when NBA players are working hard on their conditioning and their game. Training camps open in just a little more than three weeks and players want to come in close to game conditioning.
Chase Budinger is going to miss that target in Houston.
The Rockets are saying Budinger has a moderate to severe left ankle sprain and he will not be training for about three weeks, according to a tweet from Marc Spears of Yahoo.
That's not ideal but not that big a deal. Budinger should be ready to go and able to resume conditioning right about the start of camp. Better to let it rest and fully recover now than have it linger.
Budinger is going to play key minutes and an increasing role for a Rockets team, providing some scoring punch on the wing behind Shane Battier. Budinger's explosiveness is what makes his game. So sprained ankles are not ideal, but it could have been much worse.