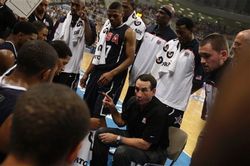 There are supposed to be rewards for winning your group-play bracket at the FIBA World Championships. And there are for the USA — it's first round game is against Angola on Monday. Very winnable.
Then the sledding gets tough. It could have been worse. But tough.
Here's the lineup. Saturday we get the two best games of the first round: first Serbia vs. Croatia, followed by the war that should be Spain vs. Greece. It would not shock to see the winner of that game in the gold medal game. The winners of those two games will go on to face each other in the round of 8 (look for the Spain/Greece winner to advance).
Sunday it is host and dancerless Turkey vs. France — Portland's Nicolas Batum had a buzzer-beater three at the end of France's game Thursday and if he hits it they (based on point differential) would have faced Russia in the first round, not undefeated Turkey. The other Sunday game is Slovenia vs. Australia, and the winners of those two games meet in the next round (look for Turkey out of this bracket).
Monday the USA gets Angola while Russia will take on (and likely defeat) New Zealand. Then it is USA/Russia on Thursday, with a Russian squad led by 6'11" Sasha Kaun and newly-signed Knick center Timofey Mozgov — two skilled big men. Against an undersized USA squad. This will be a first test.
Tuesday we see the other teams on the USA's side of the bracket: Lithuania vs. China and Argentina vs. Brazil (that will be another entertaining game). Look for Argentina to advance out of this bracket, although with an off game Brazil or Lithuania could get them.
So your likely USA road to the gold medal: Angola, the tall Russian squad, Luis Scola and Argentina, then probably Spain in a repeat of the Barcelona gold medal game. But maybe Greece makes it all the way.
Either way, no easy road for the USA. Play like they did in the first half against Angola and they get no shiny metal objects to take home.