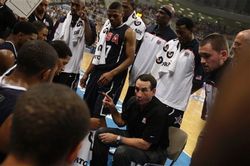 Only USA basketball can win a game by 35 points and not impress doing it.
But that was the case with the USA's 92-57 win over Tunisia. The USA exits FIBA World Championship pool play 5-0 and is now off until Monday when it will take on Angola in the round of 16 — the first of the one-and-done knockout rounds.
Undefeated or not, the USA did not impress Thursday. If this were a high school team, their next practice would be filled with running suicides. Then, while the team stood bent over gasping for air on the baseline with hands grabbing shorts, Coach K would walk out to the free throw line, try to find the words, just shake his head and say "again" then blow his whistle.
The issues were really in the first half, when the USA's recent trends of a stagnant half-court offense, questionable shot selections and turnovers plagued them. The USA took a lot of threes early in the clock and went 0-8 from deep to start. The offense was listless at best. A fired up Tunisian team was playing its best and they hung around. The score was 19-13 USA after one and 39-33 at the half.
The USA has become dependant on their pressure defense to create turnovers and easy transition basket. Which is fine, but there is no steady Plan B to fall back on. When a team like Tunisia comes in and can withstand the pressure without sloppy turnovers, the USA starts to struggle to score.
In the first half, Kevin Durant was the exception, scoring 9 of the USA's first 11 points on his way to 14 points.
Another issue — Tunisia had 20 offensive rebounds in this game. That
would be 38 percent of their missed shots where they got a second
chance. Rebounding is about desire, and the fact the Tunisia got the
boards talks to the focus and motivation Team USA had for this one.
The second half was more traditional USA blowout, with the defense forcing turnovers and an open floor for the USA's superior athletes to run wild.
Eric Gordon looked very good for the USA, dropping 21 points. He has been a bit spotty after a very strong opening game (and training camp) for USA basketball, but he was back for a half against Tunisia. Russell Westbrook added 14 and Steph Curry had 13, as the USA bench guards had a good day.
The USA has three days of practices now to right the offensive ship. Then they get a very winnable game against Angola on Monday. But after that it's going to get tough — three games from a gold medal and it could be Spain followed by other top teams like Argentina and Turkey.
If the USA plays in those games like it did in the first half against Tunisia, it will not be undefeated any more.