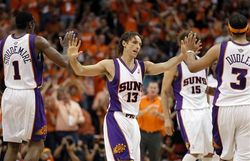 Phoenix Suns point guard and two-time MVP Steve Nash recently wrote a short article for the September issue of
Men's Journal.
The topic? How
not to choke in pressure situations
:
At the 2000 Sydney Olympics, our Canadian national basketball team's sports psychologist, David Cox, spent a lot of time helping us hone our mental approach to the game — basically, he didn't want us to choke on such a grand stage. And his advice for making sure that didn't happen was quite simple: "Just breathe."

David explained that when people get nervous, they tend to hold their breath or not breathe as frequently as they should, which only causes the nervous system to get even more out of whack. So in order to focus — and forget about the referee, the last play, the crowd, and our opponent — we'd remind each other to breathe normally and to take deep breaths when we were feeling a lot of pressure.
Not the most complex stuff in the world (which I suppose could be the point), but it certainly works for Nash: according to 82games.com, Nash averaged 43.6 points and a league-leading 13.4 assists per 48 minutes in "clutch" situations last season.