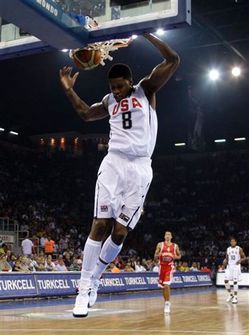 Rudy Gay, who was fourth on the Team USA in scoring at 9 points a game before the USA took on Tunisia Thursday, suffered a mild groin strain in the game and sat out the second half of that game.
It doesn't sound all that serious, if you listen to Coach Mike Krzyzewski's comments to Chris Tomasson of Fanhouse (posted on twitter):
"We think we'll be fine but we just didn't want to chance that"
Which is why Gay sat the second half.
The USA is off until Monday, so Gay has plenty of time to rest. We'll see how much he is worked in practice the next few days, or if he gets a couple days off.
Coach K is very mindful that he has a team of NBA players who a couple weeks after they leave Turkey will be back in their team's training camps (in Gay's case the Memphis camp). Groin injuries are a thing that can linger if not taken care of right the first time. We'll have to monitor Gay to see his progress.
But you can expect him back and ready to go Monday when the USA takes on Angola in the first round of the knockout stage of the tournament.