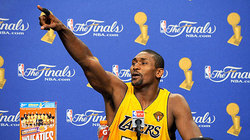 Ron Artest, mental health spokesman.
It's true. From our friends at the San Gabriel Valley Tribune comes the news that Artest has teamed with Congresswoman Grace Napolitano to raise awareness of mental health and mental health programs for youth. He'll be speaking at a school in Montebello (a suburban area of Los Angeles).
As always when a politician is involved, there is a political motive. Napolitano is the sponsor of the Mental Health Act in Schools of 2009 bill (HR 2531, if you feel the need to look it up) which is designed to provide wider mental health programs for schools and youth. The bill is currently in committee.
We can all jump on the "Artest and mental health?" jokes if we want, but really this is a pretty good fit. Artest is a pretty good example of how psychiatry can help people — remember Artest thanked his psychiatrist in his post-championship press conference. And with all the pressure in that game, he may have been the best player on the court for most of it, dealing with the pressure well.
Artest is a lot of things, but he is also very self-aware. Far more than most NBA players, it seems. He knows who he is. He can be immature at times, but he is now far more mature than he was even five years ago. And he accepts who he is.
And Artest is just flat out honest. With himself, with others. Children can relate to that. So if anyone can talk to kids about screwing up and figuring it out later, it's Artest.
Still, another story we did not expect to see today.