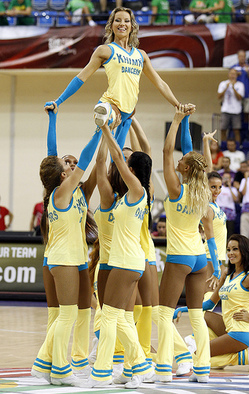 Are we human, or are we FIBA dancers…
Timeouts in the arenas during the FIBA World Championships it looks like every NBA game — the music comes on and the dancers take the floor. Dressed provocatively, they are a little bit of eye candy during the break.
Except now during host Turkey games.
The Red Foxes (as the dancers are called) have been asked not to perform during games for Turkey, a mostly Muslim nation, according to the Associated Press. The dancers and their outfits are said to be offensive to people from the host nation, as Islam prohibits women showing their skin in public (and the dancers showed plenty of it).
Turkey is not alone, Iranian officials and some fans were turning their backs when the dancers performed. An adjustment was made where the dancers wore long pants for some games Wednesday.
The decision to pull the dancers did not come from FIBA but from the Turkish Basketball Federation.
The Red Foxes are a professional dance team based out of the Ukraine. They had created dances themed for each nation in the tournament.
Thursday is the last games of the round-robin group stage of the tournament. After this teams are off until Thursday.
Turkey remains undefeated in group play and is one team that has a good chance of advancing all the way to the finals.