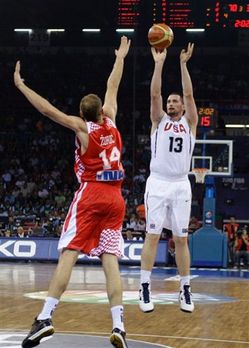 It's not a great time to be a Minnesota Timberwolves fan. The team went 15-67 last season. #6 overall pick Jonny Flynn didn't look like he deserved to be picked ahead of Stephen Curry, Brandon Jennings, Ty Lawson, or Darren Collison. Al Jefferson is a member of the Jazz, and the Timberwolves didn't get much back for him. Ricky Rubio is still in Spain. The role of "Manna from Heaven" is currently being played by Darko Milicic. David Kahn may or may not
be a worse executive than an avocado
. 
One of the few pieces of Timberwolves-related good news last season was the emergence of sophomore power forward Kevin Love. Love averaged a double-double, made huge strides on the offensive end, and has established himself as one of the best rebounders in the NBA. 
Sports Illustrated's Paul Forrester sat down with Love
, who had some interesting things to say about the Timberwolves' plan for improvement (he's not exactly sure what it is), how Al Jefferson's departure is both disappointing and an opportunity for him to step up, and how he plans to improve next season:
SI.com: Speaking of your development, what have you been working on this summer?

Love: Coach Rambis and I talked about trying to get more consistent from distance, especially on three-point shots. He wants me to be able to shoot 50 percent from the field, 40 percent from the three-point line and 85 percent from the free-throw line. That's a realistic goal after last year. And on the defensive end, he wants me to take a lot more charges and be a lot more team-defense-oriented.

SI.com: Offense can improve with shooting drills. How do you improve defensively, especially in a team-oriented way?

Love: It's all a mind-set. You also can play three-on-three, two-on-two, one-on-one — those type of situations always make you better. And being with Team USA has really helped me on the defensive end as well.
Love also had some interesting thoughts the upcoming CBA negociations:
SI.com: You may not have much time if the players' association and the league don't agree on a new CBA. What is the outlook on that as you understand it now?

Love: I've heard that the owners are going to try to negotiate the contracts down of the guys who signed this year, which I don't see happening. But they'll probably try to get into fewer years with contracts, and obviously the cap will go down a little bit. But I don't think it will be as dramatic as people think. At least, I hope not. The owners want to make their money, the players want to make their money, but in the end, this is a players' game, and we bring the fans out.

The [players' union] has been trying to tell us to save our money. Every e-mail ends with a reminder that "If you haven't started saving your money, start saving now." People are being smart, and if they're not smart, they're going to find out real quick. If [a work stoppage] comes, whether it's half a year or a year, hopefully it won't be too tough on any of us, especially the players.
I encourage you to click through and read the rest of the interview, because there's a lot of good stuff in there. Hopefully Kevin Love can continue improving next year, because his team is counting on him in a major way.