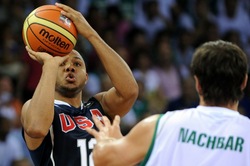 Eric Gordon has played quite well as a member of Team USA. Even though he hasn't been all that consistent (but then again, Durant notwithstanding, who has?), Gordon has been the Americans' most prolific three-point shooter in the World Championships thus far. He shoots the international three with ease, and with so much attention being paid to Team USA's creators on the perimeter, Gordon's shooting savvy has helped him feast on the weak side.
While Gordon was considered by many to be a curious selection on the Team USA roster, this is who he is. Gordon isn't stepping up. He's not busting out. He's playing the same way that he plays in every game of the Los Angeles Clippers' season, but with the benefit of better teammates.
Gordon's points per 36 minutes are up a few ticks in the World Championships (from 16.9 in the NBA last season to 20.0 at FIBA this summer), but the discrepancy is easily accounted for. Gordon has seen his shot attempts go up on a per-minute basis, and with Team USA's frequent opportunities in transition, it's no wonder that Gordon has been a touch more productive and efficient from the floor.
In terms of skill and production, this isn't some radically improved Gordon than the one we've seen play for the Clippers over the last two season. He's a physical — if undersized — defender, a three-point threat, and an all-around efficient scorer.
In fact, one could even argue that Team USA hasn't had the benefit of a fully empowered Gordon. One of the stronger aspects of his NBA game has been suppressed by his role with Team USA: drawing fouls. Gordon isn't strictly a jump-shooter. He's able to create contact off the dribble, and had he played a full season last year, the frequency of his free throw attempts would put him just outside the top 20 in that measure. That statistical distinction is otherwise reserved for stars, quasi-stars, and Corey Maggette, which puts Gordon in rather superb offensive company.
With Team USA though, asking Gordon to create off the dribble (even if he's capable of drawing fouls at a decent rate) doesn't make all that much sense. The squad is already overflowing with ball-handlers, most of which lack Gordon's ability to spot-up on the perimeter. That makes Gordon's role a bit clear-cut, even if he's a more versatile offensive player than his FIBA performance suggests.
The only jump Gordon has made this summer is in exposure. The Clippers don't traditionally get much media burn, and their NBA irrelevance over the last two seasons has cast Gordon in the background. He's still somewhat undervalued on Team USA — even in spite of performances like his 21-point, three-steal outing against Tunisia today — but a national audience is finally learning to appreciate Gordon for all of his basketball talents. It's about time.