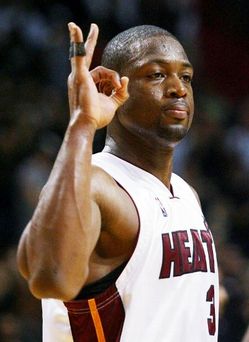 Meet Jonathan Lee Riches. He's a bit of a legend (in the urban sense) of the legal and penal systems.
His claim to fame is not the simple wire fraud that has him behind bars. See, what Riches likes to do is file lawsuits from his prison cell. Handwritten screeds that are filled with courts and go after damages from the famous. Really, you aren't famous until Riches has sued you. Among those who have had to have a lawyer look at this are are George Bush, Martha Stewart, Steve Jobs, Michael Vick, even Somali pirates (who may need to be subpoenaed to appear).
Well, welcome to the club Dwyane Wade, Carmelo Anthony, Mark Cuban and Jerry Buss. The Dallas Observer read through the lawsuit and gave us some of the choice bits (all via Deadspin).
Carmelo Anthony told me he is going to kill me … I was his former boyfriend and we were in a sexual relationship in 2000 (Anthony was going to go after Riches because of the tell all book Riches is writing … honestly I might read that book).

Mark Cuban stole my credit cards and tried to buy the Texas Rangers with my money. Mark Cuban assaulted me serving ice cream at Dairy Queen.

Jerry Buss sold me Jeannie Buss on eBay and I was promised a Lakers janitor job when I get out of prison for less than minimum wage.
Obviously, these are all not true. I know you just said "duh" but there are people who buy the Globe in the checkout line at the grocery store and believe its every word like we're in Men in Black. So I felt I had to put in the disclaimer.
And although it has nothing to do with basketball, this is my favorite one from the suit.
Nolan Ryan threw 100 mph fastballs at my head and he and Robin Ventura beat me up at the Church of Jesus Christ.