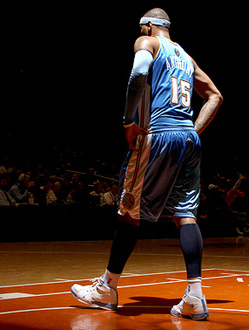 The Denver Nuggets have not given up hope.
While it seems the Carmelo Anthony has made up his mind he wants out of Denver, the Nuggets are counting on new general manager Masai Ujiri and coach George Karl to change his mind. Ujiri — who had a good relationship with Anthony when Ujiri was a Denver scout — is expected to have a sit down talk with Anthony in the coming weeks.
Teams are calling about Anthony, but they are being told that he is not available right now, reports ESPN's Marc Stein. Sources with five teams told Stein that so far Denver is shutting down talks before they start.
While there have been reports that Anthony is done and wants the trade to happen, those likely come from Anthony friendly sources. Like his agent Leon Rose and the people at his agency CAA.  If Anthony wants out, he wants it to happen before the season starts.
Denver management may not. They theoretically have until the February trading deadline to move him.
The challenge is this: If he is asking to go, it becomes a locker room and community issue if he stays. How will Denver fans react if a steady stream of reports about Anthony wanting out of their city keep flowing once games start?  How will it play with teammates who hear he wants to get away from them because he doesn't believe the organization can win?
In that sense, Anthony has leverage. He can walk at the end of the season as a free agent and if he makes it clear to the Nuggets he plans to do that they have no choice but to trade him or end up like Cleveland and Toronto did this summer.
But Denver doesn't have to rush. And they apparently are not going to.
They are still holding out some hope they can keep him in Denver. Until all that hope is gone, trade talks will wait.