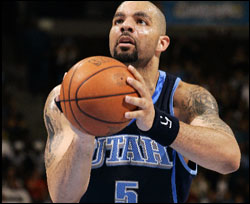 The Miami Heat are the trendy choice, what with three of the best players on the planet on one team. The Lakers have the Trophy. Boston had it a couple years ago. Orlando has been on the cusp recently.
But Carlos Boozer likes how his Chicago Bulls look and think they should be in the conversation. Look what he told ESPN Chicago about his goals:
"A championship," he told ESPNChicago.com on Wednesday night after a Nike House of Hoops event. "I think a realistic goal for us is a championship. I think anything shorter than that we're setting ourselves up to be shorter than what we can reach. I think [we have] potential to be a championship-level team…"

"[Derrick Rose is] tight," Boozer said. "He can play. With our combination of what we have on our team, with myself in the post, with D. Rose at the point guard spot, Joakim [Noah] plugging that middle up, Luol Deng being very versatile on the wing, I think we have a team that can rival anybody. I think we'll be able to compete against every team in the league."
You picture that roster playing Tom Thibodeau defense and last season they might have been the best in the East.
But now, the stakes are raised. The Bulls are going to be good, no doubt, but Miami good? Orlando good? Come the playoffs, can they hang with Boston?
How far the Bulls go will depend in part on Deng and his progression. Rose getting a jump shot. Boozer and his spotty defense being better under Thibodeau. There's a lot of questions to be answered.
But when you're good, a title should be the goal. So at least Boozer is looking the right direction. Even if me may not get to the Promised Land.