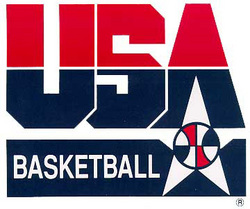 Well, that was pretty much what we expected — including the part where Kevin Love was the one guy to show up and care.
The USA was going to roll past a clearly less talented Iran team and came out with all the intensity of an intersquad scrimmage. Eventually they got there, winning 88-51 and securing the USA the top spot in Group B at the FIBA World Championships. They face Tunisia tomorrow morning in the final game of group play.
Iran hung around early as the USA's sluggishness led to a lot of missed shots and turnovers. Iran kept it to a six-point game after one quarter, while the Americans piled up 7 turnovers.
Then the USA started to roll in the second quarter, using their pressure defense to create turnovers and easy transition points, as they have done against every team that could not come close to matching their athleticism. At one point Iran had 21 possessions where they had scored and 20 where they had turned the ball over (according to John Schuhmann of NBA.com).
It was 42-28 at the half and with an 8-0 run to start the third quarter it was all over but the full half of garbage time. Kevin Durant had a dozen for the USA, Derrick Rose 11.
Two guys of note.
Kevin Love led the USA with 13 points — in just 11 minutes of play. He continues to be the best USA big man (starter Lamar Odom had 2 points and 2 rebounds in one of his classic disappearing games). Love defended well, rebounded and was the one USA player who seemed really focused and on his game from the second he stepped on the court.
Why isn't he getting more minutes? It's a mystery why Tyson Chandler was off the bench before him. If it wasn't for wanting continuity, I'd suggest starting Love at this point, but at least he should be getting a lot more minutes than he is now.
The other guy to watch was Memphis' backup center Hamed Hadadi, who finished with a team high 19 points for Iran but was a real mixed bag. He rarely used his 7'2″ frame to power inside (which he should have done more to Odom) but did show some nice touch from the outside. He can hit the midrange. But his shot choices are questionable and he seems to love the fade away when he should be powering toward the hoop. He can rebound some, too. But he is not mobile.
Basically, he's a backup center, one that will survive around the league because of his size and touch, but not much else. Used in the right setting he can have some value, but he is not a transcendent player.
 
Basically, nothing Grizzlies fans didn't already know.