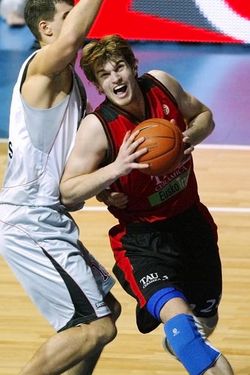 Tiago Splitter was solid and professional, not spectacular. A guy who got things done but without flair.
That is to say, he was a Spur.
Tiago Splitter — who joins the Spurs this fall — got a real test against NBA talent when Brazil took on the United States in the FIBA World Championships. Well, frankly he got a lot of real tests playing in the ABC, the top Spanish league the last couple years. But we stateside fans have gotten few real good comparisons we've gotten to watch of him against NBA talent. We did Monday.
Splitter had 13 points and 10 rebounds, and Spurs fans loved what they saw, as the San Antonio Express-News Spurs Blog shows (thanks for the heads up Andy).
Splitter's final line — 13 points, nine rebounds, three assists and two steals and a block — is one he ought to be able to approximate on a nightly basis with the Spurs. He was 6-of-12 from the floor, scoring most of his points on pick-and-rolls, flashing that basketball IQ the Spurs have been raving about. Splitter doesn't appear to be much of a one-on-one post scorer — though he did throw in one nice jump hook — but then again the Spurs aren't asking him to average 20 points per game…

Defensively is where Splitter shone brightest, both physically and intellectually. His pick-and-roll defense — an area of concern for the Spurs last season — was superb. His soaring block of Russell Westbrook, meanwhile, hinted at Splitter's athleticism. Splitter was also good defending Lamar Odom in one-on-one situations.
Splitter outplayed Lamar Odom, but that often has more to do with Odom's head than anything any opponent does.
Still, it was a positive. You can see him coming off the bench for Antonio McDyess and the Spurs getting better at the five. You can see Splitter finishing games. And you can see him making smart plays.
He is not going to blow you away with his athleticism, but he's plenty athletic. He is not Dirk Nowitizki shooting, but he shoots well. He does not bring the energy that DeJuan Blair does off the Spurs bench, but he'll bring professionalism and a high basketball IQ.
He'll be a Spur. A vintage Spur.