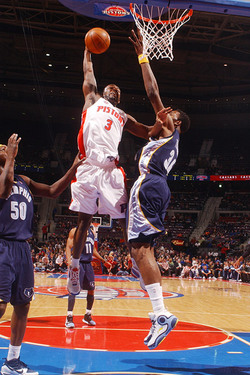 Last season there were points that Rodney Stuckey got the ball on an outlet and wanted to push the pace, but his body wouldn't let him.
There are levels of conditioning, even among professional athletes. This summer, Rodney Stuckey has been in the gym working to take his to the next level so that when it is time to run he is in the starters blocks. It's key to him stepping up his game, as he told Pistons.com (the official Web site of the team).
"I think I just toned up a lot. My clothes fit a lot different. I've got to poke holes inside my belt because I'm losing a lot of weight. I've just been working hard, staying focused and just working out….."

"My main thing was just coming in to training camp in better shape and just get a lot more shots up," he said. "Pretty much what I have to worry about is making my shot more consistent. I think if I do that, I'll be fine."
Stuckey was not impressing anyone with his shooting range last season — he shot 34.9 percent from 10-15 feet, 38 percent from 16 feet to the arc, and 22 percent from three. (Thanks Hoopdata)
Conditioning may help with that, but taking hundreds of shots a day helps more. If Stuckey can improve those outside shooting percentages, he becomes a far more dangerous player. One even more crucial to a turnaround season in Detroit this year.