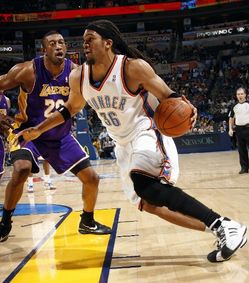 The Atlanta Hawks locker room could use a little poetry.
It looks like it's about to get some, because the Hawks are about to sign Etan Thomas as their third string center, according to the Atlanta Journal Constitution's Michael Cunningham.
Obviously Al Horford gets the lion's share of minutes at the five, with Zaza Pachulia and Jason Collins backing him up. So don't draft Thomas on to your fantasy team, he's not going to see a lot of court time. He's there to bang bodies in practice, play some minutes here and there, and be a good guy in the locker room. He will be good in the locker room — he's "More than an Athlete." (The league could use more people like him in that regard.)
On the court, it will be fun to see who can have a lower PER at the end of the season, Collins or Thomas. Last season, Thomas was a dreadful 6.9, but Collins was a legendary 0.9.
Still, for the end of the bench, not a bad signing.