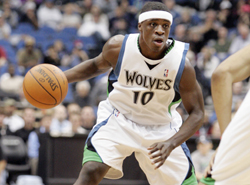 Good news from Jonny Flynn, who tweeted last night he is off the crutches, walking and doing some pool workouts as he recovers from off-season hip surgery.
That's a good sign. He's expected to still miss training camp and the start of the season, but the recovery seems to be coming along.
The adjustment questions for Flynn in his sophomore season will be less about the hip and more about his role. Luke Ridnour will get the starting point guard job in camp and likely keep it when Flynn returns. Can Flynn adjust to being a guy off the bench, a change of pace guy expected to score some?
We'll see, but first he has to get his hip right. And hang out by the pool.