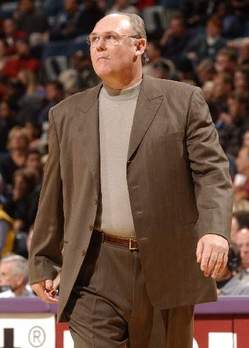 Ultimately, here is what it comes down to when Carmelo Anthony looks at that three-year, $65 million extension the Denver Nuggets put on the table:
Do I trust the organization?
Does he trust their management? Does he trust that they can keep a winner on the court? Does he trust the new regime of Josh Kroenke and Masai Ujiri?
We don't know what Anthony thinks about all that (although we can guess by his reported actions). But you can bet he took note that the big name coach Denver has was caught off guard when former Vice President of Basketball Operations Mark Warkentien was let go. That's what George Karl told the Denver Post.
"The change surprised me," Karl said. "Mark and I, I can't deny, have been good friends for over 10 years. I don't talk to Mark everyday, but I still talk to him every other day. I want Mark to get a job. He deserves a job. He's very talented. He deserves to be in the NBA."
Karl was in on the hiring of Ujiri, who he also is a friend of and a guy Karl respects.
Karl seems to have turned his attention to on the court, where this season the Nuggets should be pretty good. Although without Kenyon Martin and Chris Anderson for much of the campaign they may take a little step back in the regular season. Newly acquired Al Harrington will help there, but he will not fill the entire frontline gap.
But if they are healthy come the playoffs they are a threat. If healthy they can be on that second tier in the West behind the Lakers but in the mix with the San Antonio's of the world.
However, the bigger questions in Denver are not about this season but the future. About keeping Anthony, first. Although Ujiri will sit down with him, Anthony knows that the young Kroenke — who already sat down with Anthony — is the real power in Denver.
Anthony has sat back and watched the Nuggets this offseason, seen a coach surprised by front office moves. That is not a sign of a cohesive, well working front office. Anthony seems to have decided that ultimately, the trust isn't there right now. The only questions left are if Denver can change that, or what they can get for him in a trade.