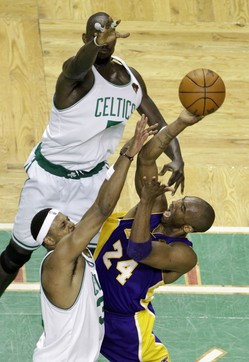 For all the talk about getting the old gang back together in Boston for one more run, it isn't exactly the same old gang that is coming back next year.
And the changes that are coming could cut right to the core of what won Boston one title and almost two — great defense.
Jeff Clark over at Celtics blog takes a good look at the question, which really is a series of questions. The first one is — how big a loss is Tom Thibodeau, and can Lawrence Frank keep the defense going?
Frank is a diligent worker with head coaching experience.  He'll provide a different voice and perhaps take a fresh approach to the lead assistant position.  However, he's not Tom Thibodeau and perhaps he shouldn't be expected to be just like Tom.  For the last three years Tom has essentially played the role of Defensive Coordinator, but most teams don't define roles that strictly.  Frank is certainly going to help out with the defense, but he'll have some say in the offense as well.  In fact as I've mentioned, it wouldn't surprise me at all to see him groomed to take over for Doc if and when he leaves.  It remains to be seen if the loss of Thibodeau will hurt the team or if they'll actually benefit from a fresh take.
Then there is the center spot — you can't have a good defense in today's slashing NBA without a long-armed big man protecting the rim.
Kendrick Perkins was that big body, and may be again late in the season. In the interim, Jermaine O'Neal gets that role. He is not Perkins, but he is not a bad defender either. He's solid. In the right system with defined roles where his rotations are clear, he can do the job well enough.
Behind him is Shaquille O'Neal. Doc Rivers is already on record worried about teams pick-and-rolling Shaq into the ground. But the other problem is he has long been a freelancer on defense, not someone who has stuck with a system but looked for his own play. He makes them, sometimes, he's fairly smart about it. But the Celtics system is built around rotations Shaq may well ignore.
That may be an issue.
But the biggest issue — as it is with all things Celtics — is health. If Kevin Garnett is healthy, the Celtics defense is going to be fine. If he is out, things drop off fast.
Readers on Celtics blog expect the team defense to be about the same with these new Celtics. I don't see it, I think there is some regular season drop off. But that's not the point — if all the key players are healthy come the playoffs, the Boston defense will be stifling teams once again. And Boston will be a title threat.