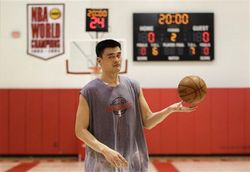 Rockets General Manager Daryl Morey is a smart man. Not that it takes a smart man to realize they need to be cautious with Yao Ming's health, to keep his minutes down and minimize the risk. I mean, I figured it out and I'm a blogger.
Yes, doctors have cleared Yao, his foot is fully healed after a year off and he is practicing in Houston to get himself and his game in shape for the season. But you still have to be a little nervous if you're a Rockets fan.
Morey told the Sporting News that the Rockets would error on the side of caution.
"He is fully healed, and that is great news, of course," Rockets GM Daryl Morey told SN. "But the doctors are still evaluating everything. There is no question we are going to have to be very cautious with his playing time…"

"He is going to be more limited, it is just a matter of how you get to that point, how you limit him," Morey said. "Obviously, you start with less minutes per game. He won't be out there for 35, 40 minutes per game, we know that. But then, things like back-to-backs, you might see him not play in the second part of those or something. Practice time, he might be limited. There are different ways to keep his minutes down. No one knows exactly right now…"

"He is such a competitor, there are going to be times when he absolutely won't want to come out," Morey said. "I know the first game that is close and he is playing well but his minutes are up, we will have to have (trainer) Keith Jones go on the floor and tackle him and drag him off. We have to look at the big picture here."
It is all pretty simple: With Yao the Rockets are contenders in the West, a real challenge to the Lakers. Without him, middle of the pack and done early in the playoffs.
Doc Rivers and the Boston Celtics provided the blueprint, sacrificing regular season games and keeping guys healthy and fresh for the playoffs, when they made their run. Houston can just build on that a little.