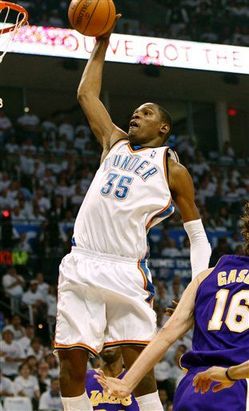 You know you can score the rock when people start throwing your name around with Kareem Abdul-Jabbar (the NBA's all-time leading scorer).

That's what Andre Iguodala did with Kevin Durant at Comcast Philadelphia. (via Fan Nation)
"Kevin Durant will be the NBA's all-time leading scorer when it's all said and done," Iguodala said emphatically. "He loves the game and has a knack for putting the ball in the basket."
No pressure big guy.
For the record, Kareem finish his career with 38,387 points. Right now Durant has 5,967. Last season, Durant scored 2,472 points, most in the league.
If Durant can score at the exact pace he did last season for more than 14 more seasons, until he is 35, he can pass Kareem
That's not impossible. But you wonder how likely it is because Durant's mentality would be to give up his personal records and points to help the team win a title. Those numbers also show you just how far out there Kareem is, how insane a record that is.