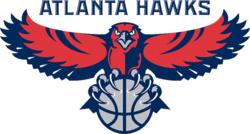 This could be a dull, standard little NBA transaction. But in the context of everything else going on with the Hawks, it could have bigger implications.
Although it's hard to say because we know little about Pape Sy. He apparently has been in the witness relocation program for prospects.
The facts are that the Hawks have reached a buyout deal with the French team Le Havre that will bring Sy, Atlanta's second-round pick, to the states in time for training camp, according to the Hoops Market.
There we will find out about Sy. We know he is 6-6 and played point guard for Le Harve, a team pretty low on the totem pole in the French league. There he played just 14 minutes a night and took just three shots per game.
In the NBA he projects as a shooting guard off the bench, if anything. Which is why this is interesting.
The Hawks have a shooting guard off the bench. His name is Jamal Crawford, and he was the NBA's sixth man of the year last year. Crawford has also demanded a contract extension or a trade. If the Hawks were to trade him, they would need someone to fill that backup role.
Sy probably is not that guy yet. Even if he has potential to make it, the leap for a 22 year old from the lower levels of France to the NBA is far to high. He will need a year or two to mature his game. Still, it has you wondering about the Hawks long-term plans.