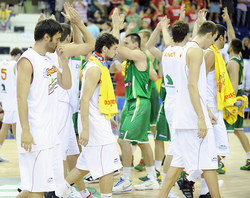 Maybe Spain misses Paul Gasol more than we thought.
After dropping their first game to France it was expected Spain would wake up and start to roll, but on Tuesday they blew an 18-point third quarter lead, were outscored 23-9 in the fourth quarter and fell to Lithuania 76-73.
Good you say. The other co-favorite coming into this tournament lost, that's good for us Americans right? Wrong.
Spain will likely win its last two games (Canada and Lebanon left, two teams that well below Spain in talent). They will finish third in Group D, which means in the first round of the 16-team single-elimination tournament part of the World Championships they will likely play Greece. Two of the top four favorites coming in.
The winner of that game gets… the United States in the round of 8. Not good. While the Americans can beat either squad, you'd like to avoid teams with a real chance of beating you as long as you can. And both those teams could threaten the USA (Greece sandbagged their friendly against us).
The USA could have to face the Greece/Spain winner, followed by Argentina, followed by host Turkey in the finals to win it all. That is no easy road. Tougher than hoped for.
The USA can thank Spain for that.
Spain was up 11 to start the fourth quarter Tuesday but their offensive execution just floundered, with things like an out-of-control penetration turnover by Rudy Fernandez with 1:30 left. Meanwhile the very loud pro-Lithuanian crowd kept their team in it, and they seemed to be more focused and in control as the game went on.
Tied at 71-71 and 1:30 to go it was all Linas Kleiza (Toronto Raptors) against Marc Gasol (Memphis Grizzlies). First Kleiza missed a shot, then Gasol missed a shot at the other end. Kleiza drew a foul on Rudy Fernandez but it wasn't shooting. Then Kleiza got one to drop in the paint (73-71 Lithuania). At the other end, Gasol drew the foul and with 19 seconds left went to the line with a chance to tie the game with a pair of free throws.
He missed both.
From there it was a lot of fouling, and the traditional trading of free throws, with Juan Carlos Navarro making two for Spain to cut the lead to 73-74 with 12 seconds left. Lithuania was able to get the ball to Kleiza and there were six seconds left when he was fouled and went to the line.
He hit both.
That was basically it. Spain had another chance to tie with a last second three, they tried to hit Ricky Rubio with a pass but in the end it was just another sloppy late turnover by Spain.