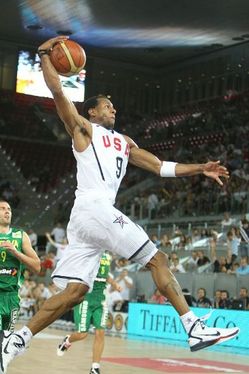 You can go ahead and say the USA's fortunate win over Brazil put their weaknesses on display for the world and showed why this team will be in trouble against the globe's other elite squads.
The guys on the team can't look at it that way. Andre Iguodala has been keeping a diary for the Philadelphia Daily News on his experiences with USA Basketball and he saw the win over Brazil as a good thing.
I think [the win] was really key for our group, knowing that we can get through anything. We were down in the first half but we just kept pushing . . . cut it down little by little . . . We've been down in games before . . . were down against Spain in an exhibition game. Those moments help you for those key moments in the important games.
He has to say that. He has to believe it. He can't think the team he is on is fatally flawed.
And it's not. Fatally, that is. It is flawed but it can overcome those flaws when it plays good defense. It did that by and large against Brazil, who could not miss early on.
Iguodala has also taken on a Kobe Bryant -like attitude about defense on this team.
I know my role on this team. The main thing is we got the win. All the other stuff doesn't matter. It only matters what the score is at the end of the game. I had a job, which was to make it tough on [Leandro] Barbosa to score and he had to pull out his best moves to score in the second half.

I've known [my role] ever since being a part of the USA Basketball system, knowing that we're going to have some great scorers. You got the Dwyane Wades and Kobe Bryants and on this team you got the Kevin Durants of the league. I feel like I can fit into any system no matter who I'm playing with. With this group, I feel like I go out there and try to shut down whoever their top scorer is.
His defense and that attitude are the one thing that would get the USA the Gold.