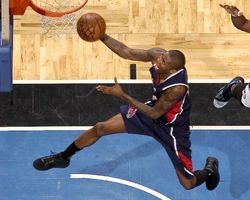 Jamal Crawford is not a malcontent, just prescient.
He knows what's coming next. Or, more to the point, he knows what is not coming next.
Even if Crawford wasn't named winner of last season's Sixth Man Award, a push for an extension would nonetheless make sense on many levels.
Foremost is the expiration of the current collective-bargaining agreement. Contracts such as the one Crawford holds for $10.1 million for this coming season could become practically extinct in a new CBA.
Further, a lockout could compact the 2011 offseason free-agency period. Being a free agent in a league in hurry-up mode is not the best of situations. Teams might think twice about adding outside talent should training camps be reduced to a week or two, if even that.
It is why Carmelo is doing everything he can to get his now.
In fact, any player with any type of leverage would be wise to push for an extension before season's end, and therefore the CBA's June 30 end.
The future is as cloudy as it ever has been in the NBA.
Heck, Caron Butler, Shane Battier, Zach Randolph, Samuel Dalembert, Jason Richardson, Tony Parker, even Andrei Kirilenko might be wise to also adopt the why-wait approach, provided their teams will have them.
The downside is signing on for an uncertain future, becoming a potential trade pawn, losing relocation rights.
The upside is being able to negotiate under a CBA that all parties involved agree is far more forgiving salary wise than what is to follow.
By contrast, it will be interesting to see how ownership approaches the situation.
By moving forward with extensions, they could better position their teams for future flexibility.
But by offering such extensions they would weaken a unified CBA bargaining position built around the stance that salaries already are too excessive.
Exhibit A is Crawford.
The Hawks already have some in ownership perplexed with the way they made Joe Johnson this offseason's biggest financial winner (which remains a somewhat staggering reality). Do they now further pollute the salary pool, preempting the restructuring David Stern is pushing for?
If ownership truly is dug in, extensions beyond those in rookie deals could be scarce this season, should be scarce.
But when it comes to competitive advantage, owners also might find themselves able to strike highly favorable extensions, amid so much uncertainty by players of what could come next.
Ira Winderman writes regularly for NBCSports.com and covers the Heat and the NBA for the South Florida Sun-Sentinel.