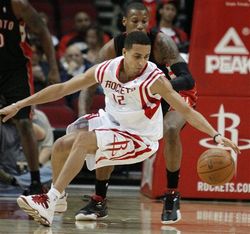 For a couple years, up until he was traded last year, Kevin Martin was the offense in Sacramento. Ron Artest was gone and Martin was asked to create offense, under coaches that had a lot of isolations and high picks where Miller had to be the man.
But before that, in his first couple years in the Association, under his once and now again coach in Houston Rick Adelman, things were different. It was a cutting and motion and a different role for Martin. It's an offense better suited to his game.
But Martin had to learn that Adelman system. And he told Kevin Arnovitz over at TrueHoop that he learned a lot of it from Brad Miller.
My offensive game is where it is today because of Brad Miller. The way he and Rick (Adelman) taught me how to cut and things like that made me so much better. The last three years in Sacramento, it was all, like, one-on-one. Now I'm back in a system where I can cut. Playing with big guys like Yao who get rebounds for you, you feed them back. Keep them happy. …

Rick's system is all about read-and-react. When you're young and watching film, you like to watch a couple of guys who you're modeling your game after, and mine was always Rip Hamilton. I always looked at how he came off screens. That's where my shooting and curling evolved….

With Brad and me, it was always on the court. And I also got a chance to watch him and Peja [Stojakovic] play a lot my first year because I didn't really play too much. He and Peja had a great connection. I knew I was a lot quicker and had a lot more agility than Peja. So at the beginning, I would always do everything so fast. I'd be too fast before the cut, during the cut, after the cut. Brad would say, "Slow down! You're faster than everybody out here, but you have to read it!" He showed me the ins and outs of making those cuts and reads — when to come around. Like when a guy plays under you, come around and take the jumper. And when a guy is playing you tight, you just go back door. Brad taught me how to play.
Now Yao is going to benefit from all that.