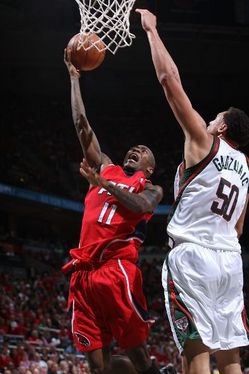 Jamal Crawford wants a new deal. As Ira Winderman explained, he sees what is coming and want to get his now before the clouds of uncertainty over future contracts get any darker.
The Hawks and general manager Rick Sund will sit down with him and his agent Aaron Goodwin in the coming week, according to the Boston Globe. That's nice of them, but it doesn't mean Crawford is getting what he wants.
Crawford has limited leverage here, other than to be a distraction and disruption. Well, that and the Hawks may want to keep him after this season, although after 11 years in the league he is not likely to get a long-term deal.
We'll see what the Hawks do, but there would be interest in teams wanting to trade for him. He can flat out score and he is a $10 million expiring deal. The Hawks did nothing to really improve their roster this summer, they stuck with the status quo while the East got better and deeper. The Hawks are still good, but they are not going to be better.
Crawford — although a key part of their success — is also a chip that could be used to help change that. To get a real big man for the middle or maybe a dynamic point guard. Something to change it up.
But you really have to wonder if they would extend Crawford for another couple years. Probably not at $10 million annually. That is old CBA money, and the storm clouds of change are getting darker.