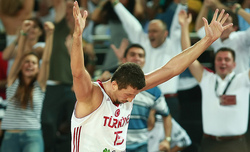 No huge upsets on day two, but top teams continue to struggle while the USA continues to cruises.
Lithuania 70, Canada 68: The Canadians were up 17 points in the second half but succumb to the physical play of Lithuania late and have fallen to 0-2 in the tournament.
Tomas Delininkaitis had a big second half for Lithuania, while now Toronto Raptor Linas Kleiza had 10 points and 8 rebounds. Lithuania has Spain on tap and the winner will have the inside track on Group D (although don't tell 2-0 France that, they think they have a chance(.
Argentina 74, Australia 72: Australia controlled this game and led most of the way but could never quite put Argentina away and paid the price late.
Patrick Mills — the Portland Trail Blazers pick — had 21 points to lead the Aussies, but the star of the game was Luis Scola who finished with 31 and had six straight points at a key moment to bring Argentina back in this one.
Germany 82, Serbia 81 (2OT): This one was close the whole way, with swings of momentum but neither team able to convert momentum into big leads.
In the second overtime it was Jan Jagla and Demond Greene whose defense really gave Germany the win (plus Jagla hit a beautiful fade away with a minute left).
Spain 101, New Zealand 84: The final score is deceptive here. After their loss to France, Spain came out slow and New Zealand hung through the entire first half.
Juan-Carlos Navarro (18 points) and Rudy Fernandez (12 points) led the way for Spain, who now face a key game against Lithuania Tuesday.
Greece 83, Puerto Rico 80: This game was insanely close the entire way, with 22 lead changes taking place. It was Vasileios Spanoulis that really gave the Greeks the win, scoring 14 of his 28 points in the fourth quarter.
In other scores: Turkey 65, Russia 56; Brazil 80, Tunisia 65; France 86, Lebanon 59; Croatia 75, Iran 54; Angola 79, Jordan 65; China 83, Ivory Coast 73.