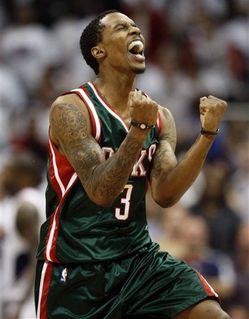 Allen Iverson was one of the most entertaining players ever — a fearless game, a guy barely six foot and thin who would fearlessly drive into the trees of the NBA forest and come out with buckets.
He was a vanguard of change in NBA, embracing hip-hop culture (or however you wish to define that term) but what made it work was his mad game. He was fun to watch, a guy who could take over games with energy and will.
Jerry Stackhouse told SLAM Magazine he sees some Iverson in Milwaukee's Brandon Jennings.
Man, there are a lot of similarities. Unbelievable quickness with the ball, ability to finish around the basket, scorer's mentality, a certain mental toughness and competitiveness about the game. I think Allen is a little more explosive at the same stage in his career. He was a guy that, even though he was 6-0, he could jump two feet above the rim! Brandon can dunk the ball and he has good athleticism, but he doesn't have THAT sort of athleticism. As far as quickness and guts, he's right there will Allen Iverson in those departments.
What will be interesting to see is how Jennings game develops, and if he becomes more of a scorer first as his NBA career moves on.
Last season, 29.6 percent of the possessions Jennings used ended up with an assist, a very good percentage for a point guard. (Note: that is not possessions where he touched the ball but ones where he was involved in finishing the play.) We think of Iverson as a scorer, but his first two years in the NBA his assist percentages were 33.6 and 30.6. The scoring mentality we associate with Iverson came later (and he still had some very good passing numbers, he is better at setting up teammates than he gets credit for).
Will Jennings become more of a scorer as he moves on, or stay more pure point guard? We will see.
But having your skills compared to Iverson? Not a bad thing at all.