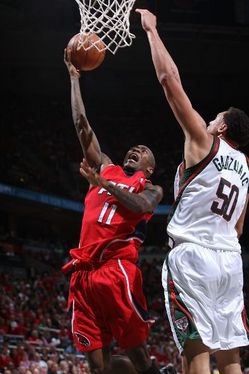 Jamal Crawford has his best year in the NBA last season — scoring 18 poins a game he won the Sixth Man of the Year award, which was fueled by an improved shooting percentage as he was a little more selective with his shots (fewer long twos than with the Knicks). His game matured.
Now he wants to be compensated for it. Or go somewhere he will be.
He wants a contract extension — he is entering the last year of his deal, paying him $10 million– or he will asked to be traded, someone close to Crawford told Fanhouse's Sam Amick.
Crawford's scoring punch off the bench was key to the Hawks jumping to 53 wins last season. The Hawks will bring the same players back — they spent money on Joe Johnson giving him a max contract — but are counting on new coach Larry Drew to take the Hawks farther.
Crawford wants some security long term, and the fact he would be a free agent just as there is a new Collective Bargaining Agreement might have something to do with it as well.
If Hawks GM Rick Sund decides to move him, an expiring contract who could give a team points in the short term will have a lot of interest.