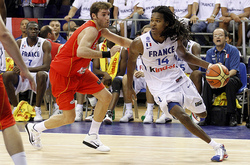 You know the USA was hardly tested in a 106-78 win over Croatia, but the other FIBA World Championship favorite Spain lost its opener. What that means may not be all bad — if Lithuania wins that group (no sure thing yet, by any stretch) the USA and Spain could meet in the finals, not the semi-finals as would happen if Spain wins its group.
But that is a long way off. Here is a recap of Day 1 action from Turkey:
France 72, Spain 66: Portland Trail Blazers fans should be smiling.
Nicolas Batum led this huge upset of the tournament co-favorites, scoring 12 of his 14 points in the second half and five in a row during a crucial series in the fourth quarter. Former Seattle Sonic Mickael Gelabale (he who had a hard time seeing the court because guys like Ray Allen and Kevin Durant were in front of him on the wings) had 16 points in the game and also was a second half force.
France struggled early on because of Spain's defense, which had the team up 10 in the second quarter. But they seemed to relax in the second half and late lost it completely. Rudy Fernandez was a large part of that — he had a second half technical and some key turnovers in the loss.
Greece 89, China 81: Greece also got ahead early on and then relaxed, but was able to hold off a late charge from China.
Greece raced out to a 14-5 lead and led by 10 at the half, but a 12-2 China run capped of by a monster dunk by former Laker Sun Yue got the game within three in the second half. China actually took the lead on a Yi Jianlian (Wizards) basket with 8 minutes left but then Greece turned on the ball movement again and was able to pull away for the win.
Turkey 86, Ivory Coast 47: The building was packed and loud for the tournament hosts — 7,700 people — as Turkey looked good in its opener.
With Ersan Ilyasova of the Indiana Pacers leading the way, Turkey jumped out to a 14-0 lead and never looked back. While the Ivory Coast cut the lead to six in the second quarter they never really threatened after that.
Argentina 78, Germany 74: About 1,000 fans from Argentina were in the stadium making noise, and the South Americans needed the boost to win a game that was not supposed to be this close.
Germany was actually ahead 42-39 at the half thanks to Demond Greene, but Argentina went on a 14-0 run to start the second half and was able to hold on. Argentina's star point guard Pablo Prigioni did not play in this one, he was officially resting. We'll have to follow that one to see the reality.
In other action: Serbia 94, Angola 44; Slovenia 80, Tunisia 56; Lithuania 92, New Zealand 79; Brazil 81, Iran 65; Russia 75, Puerto Rico 66; Australia 76, Jordan 75; Lebanon 81, Canada 71. To get more about these games, go to FIBA's official tournament Web site.