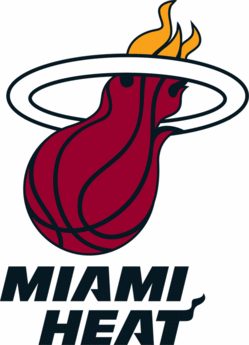 The Miami Heat didn't remodel. They had a field day with a wrecking ball, ground the roster into a paste, and sold the remains to David Kahn.
Brilliant stars, solid role players, and veteran contributors replaced the Heat that were, as Miami's contract writers faced a hell of a summer rush. To say that the Heat have had an active summer wouldn't even begin to do their off-season justice.
An interesting side-effect of the Heat's free agency-heavy approach though, as noted by our own Ira Winderman, is the virtual lock on their roster. Due to league rules prohibiting the trade of newly-signed free agents (sign-and-trades are only legal due to a specific, 48-hour provision included in a given contract) prior to December 15th, only a pair of Miami Heat players are currently available for trade: Dexter Pittman and Mario Chalmers.
That's why Miami is forced to watch the Rudy Fernandez saga from the sidelines, even if he'd look nice next to their '2010-2011 EASTERN CONFERENCE CHAMPIONS' banner. It's why studs like Andre Iguodala, even if they are actually on the trading block, aren't even a remote option. It's why the Heat will have to make it through the regular season and the playoffs with Zydrunas Ilgauskas, Joel Anthony, Juwan Howard, and Jamaal Magloire playing center.
Without the cap space to sweep any more free agents off their feet, the Heat could only acquire new talent via trade. Yet with no players to trade aside from Chalmers and Pittman (and second rounder Patrick Beverley, who will be trade-eligible on September 2nd), Miami is more or less stuck with their roster as-is.
Stuck with LeBron James. Stuck with Dwyane Wade. Stuck with Chris Bosh.
Yup, Miami's got it rough.