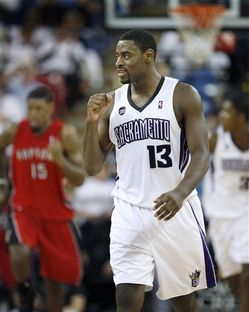 When the Sacramento Kings open the season in Minnesota, the reigning rookie of the year will not be on the floor.
Tyreke Evans was suspended one game by the league after his reckless driving incident this summer in Sacramento.
That was one of three fines handed down by the league Friday.
Indiana's Brandon Rush was suspended five games for violations of the league's drug policy. To earn a suspension you have to have failed a test three times (the first two lead to counseling).
Kenny Hasbrouck of the Miami Heat was suspended two games after pleading guilty to a DUI. This happened in New York before he signed with the Heat.
One could argue that driving under the influence is a bigger risk to society than doing drugs, but these are pretty much the standard NBA suspensions for these kind of violations.