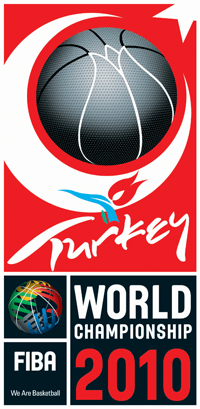 In the World Cup, the toughest group of four drawn gets the moniker "Group of Death" because some quality team is not going to be advancing to the final 16.
If there were a Group of Death for the FIBA World Championships, it would be Group B. The USA's group. Except that it really doesn't apply to the USA. Plus, in a six-team group four teams advance to the knockout stage. So you still have to blow it pretty bad not to advance. Bottom line, death takes a holiday.
Still, let's take a look at the group and who the USA will face this next week. (If you want more detail, check out the best international hoops writing on the web at The Painted Area.)
The USA is the class of the group. They should not drop a game, and should win each by double digits. Yes they are young and untested. Yes there were some ugly, sloppy moments in the warm-up games. Yes this is the USA's B team. None of that will matter in the first rounds. The sheer athleticism of this Kevin Durant-led teams will overwhelm everyone.
What matters for this squad is that they grow during the five-games-in-six-days they are about to face. Particularly on defense. Because those perceived weaknesses could bite them in the single-elimination tournament to follow. But not here.
Brazil will advance and will be the toughest test for the USA in the group stage. They feature the speedy Leandro Barbosa at the point, with Tiago Splitter and Anderson Varejao in the paint. Splitter has fantastic fundamentals and will test the USA's post defense. Barbosa is the one guy not likely to be bothered much by the USA's pressure defense, he'll just blow past it. Marcelo Machado will bomb some threes. They lack some depth — particularly after losing Nene — but they will certainly advance and could sneak into medal contention.
Croatia, the first game for the USA (Saturday at 9 am) is a team that lives and dies on the perimeter. Marko Tomas has some skills, but this is a team deep with guys who can handle the ball. Which makes this an interesting test for the USA and it's pressure defense — if Croatia can withstand it and not turn the ball over a lot, they can keep this closer than you'd expect. The team has no NBA players (a few guys with NBA rights held) but they have some quality players. Their biggest game is against Slovenia in this round, but they can't lose to Iran or Tunisia or they risk not getting out of the group stage.
Slovenia has the Suns Steve Nash heir apparent Goran Dragic as well as Primoz Brezec and Bostjan Nachbar. Who they don't have could have made them very dangerous — Beno Udrih, Rasho Nesterovic and Sasha Vujacic (there is some real bitterness with Vujacic, remember how he went at Dragic last season). Another team loaded with good perimeter players who can shoot the rock — they are capable of some big upsets because of that, they live and die by the three. They should advance, but teams that live by the three rarely advance that far in tournaments because there will be an off day.
Iran is better than you think. Not great, but not bad. They have Hamed Hamadi, backup center of the Memphis Grizzlies plus some other good players from leagues in Europe and Asia. This squad won FIBA Asia last year beating China. This is a team that on a good day could upset Slovenia or Croatia if either team overlooks them, which could get them into the knockout stage. May not be likely, but Iran will not be a pushover for those teams.
Tunisia is the team with the longest shot of moving on. They medaled in AfroBasket but the guys at The Painted Area live and breathe international ball and they have barely seen this team. That should tell you something. Even the group of death needs a patsy.