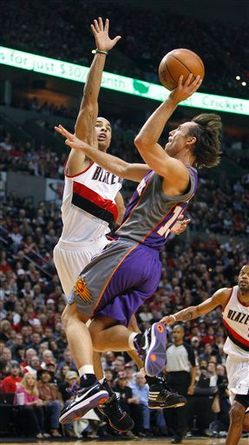 Steve Nash knew when he signed an extension with the Phoenix Suns last summer — two years, $22 million, taking him up to the summer of 2012 — that it might not happen. He didn't chase the ring, he didn't go to New York, he took the money from a franchise he loves.
So while he may be disappointed with where things are after this summer — with Amare Stoudemire gone after the team made it to the Western Conference Finals — he has no real complaints.
In an interview with the Arizona Republic, he says all the right things.
"I'll just embrace the challenge of plugging in new pieces, trying to make it work and make everyone feel good about what we're doing."
With Amare gone his running mates are more like Hedo Turkoglu, Grant Hill, Jason Richardson, Josh Childress and Jared Dudley
"To try to spread those guys between the two (off-guard) and four (power forward) at times, which may or may not work, it'll be a challenge," Nash said. "But the positive side is they're all terrific players. We have a wealth of depth at that position, defensively and with skill and shooting. The toughness and athleticism will serve those guys well but you can't expect them to play a ton of four and to thrive."
Nash also mourns the loss of team president Steve Kerr.
"He has such a wealth of experience as far as being a part of winning teams that he did a great job of building a team of guys who can co-exist and get more out of each other because of their personalities. He didn't want selfish guys. He didn't want guys in here who wouldn't work. So we have a locker room of character guys because of him. Our locker room was the best it's ever been last year because of the decisions he made."
Basically, the interview is everything you'd expect Nash to say. More than say, believe.
The Suns are not going to take a big step back this season, but in a deep Western Conference even a little step back makes it look like you went tumbling down. The margins are thin. But you know if anyone can make this group excel, it is Nash