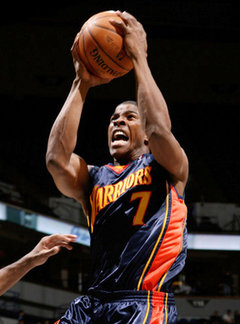 Though July's trade between the Knicks and Warriors can be easily portrayed as a Lee-for-Randolph swap, New York's other two acquisitions in that deal deserve more than a footnote. Ronny Turiaf is more than serviceable as a shot-blocker and post defender, and could very well be the Knicks' back-up 5 this season. Kelenna Azubuike is a fine off-guard, and is considered a candidate to take over Wilson Chandler's starting job.
Overall, the Knicks acquired three rotation players — including two possible starters — in exchange for David Lee, an unrestricted free agent who already had his foot out the door. Not a bad haul, all things considered.
Still, they wouldn't be the Knicks if something didn't go wrong. According to Howard Beck of the New York Times, Azubuike, who missed 73 games last season with a nasty, torn patellar tendon, could miss the start of training camp while he continues to rehab:
[Azubuike] missed the rest of the season, and the Warriors expected he would need a full year to recover. The Knicks are taking a similarly conservative approach. "We're not sure," said the team president Donnie Walsh, who described a torn patellar tendon as "one of the worst injuries in the league."

Azubuike spent most of the summer rehabilitating with a private trainer. He just began working with the Knicks' staff this week, so team officials do not yet have a firm assessment. Azubuike is not yet running or jumping, which suggests that he is a long way from playing high-level basketball. "I think it's 50-50 whether he'll be ready for training camp right now," D'Antoni said. "He thinks he will be."
Missing training camp wouldn't be a death knell for Azubuike's chance to start, but it is a bit of an inconvenience. After all, succeeding in Mike D'Antoni's offense not only requires great basketball instincts and familiarity with the sets/movements, but also stellar conditioning. Training camp offers valuable time for the Knicks to not only develop some on-court rapport, but also work themselves into game shape.
Beyond that, don't discount the fact that while the seven-seconds-or-less offense may seem like a state of nature, it needs to be taught. It's not an instinctive exercise to push the ball at every opportunity, and players learn to really force the fast break through repetition. Azubuike's ahead of the class after an extended run with the Warriors, but there's no question that a camp with the Knicks would help with his assimilation.