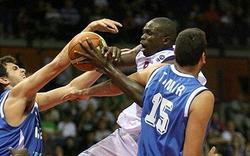 Great Britain's national basketball team has been fairly awful. So awful, in fact, that FIBA has threatened to bar the team from competing in the 2012 Summer Olympics, despite being the host country. It's a rare distinction among the more prominent Olympic host nations, reserved strictly for the truly embarrassing competitors in a particular sport.
However, GB's team made a leap forward last night, when they qualified for the 2011 EuroBasket tournament with a 94-85 overtime win over Bosnia and Herzegovina.
Two NBAers (one current and one…quasi) led the way for Great Britain: Luol Deng dropped a gaudy 38-pointer while grabbing 13 boards, and Pops Mensah-Bonsu, who played for the Raptors last season but will play in Spain for the upcoming one, notched 32 and 21. Two huge individual performances, but neither quite measures up to the importance of this victory for the British national team.
However, as Tom Ziller noted at FanHouse, GB's big win hardly closes the case of their participation in 2012, even if things are looking up:
Of course, with NBA commissioner David Stern and the international and British Olympic committees deeply
interested in seeing Team GB in London, FIBA has a bit of a chip here,
and will certainly keep everyone guessing until mid-2012, unless the
British manage to win an automatic berth by performing really well at
EuroBasket.
Even though this win doesn't seal the deal for Great Britain, it's a huge step in the right direction. Deng's former Bulls teammate, Ben Gordon, said he will play with the team next summer, giving the full-strength squad a chance to showcase their competitive worth against the top teams in Europe. Great Britain would in no way be a contender for the EuroBasket crown, but a decent showing could be enough to secure an Olympic spot.