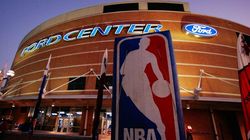 The bidding is open — the Oklahoma City Arena where the Thunder play will be changing out its title sponsor. Gone will be Ford, in will be…
We don't know.
But the Oklahoman tells us Ford is coming off. Ford bought the naming rights before the Thunder came to town, but a clause in the deal allows the Thunder to terminate the deal. Ford was paying less than $500,000 a year before, but with an NBA team there the figure should likely be in the $3 million range.
The Thunder gave Ford — specifically Oklahoma Ford dealers — a chance to come in at a new price, but that was too rich for their blood right now.
So who are likely bidders? What national corporations are based out of OKC?
As Tom Ziller first noted, Sonic Drive-In, the fastfood chain is. Talk about really rubbing salt in the wounds in Seattle — first you steal their Sonics and change their name to the Thunder, then you force the team to play in Sonic Stadium? Ouch.