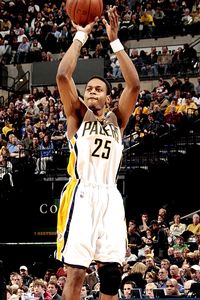 According to the Associated Press, Pacers guard Brandon Rush has been suspended five games for violating the league's anti-drug policy. 
As Mike Wells noted on Twitter, Rush's suspension means that this is the third time he has failed a drug test. In response to the suspension, Pacers president Larry Bird said "we will do what we can to help Brandon going forward." 
As Jared Wade of Eight Points, Nine Seconds pointed out earlier today, this is exactly the kind of news the Pacers didn't want right now: 
The team spent the past several years in salary cap hell, and the ultimate payoff of living in that limbo of mediocrity was supposed to be having a team that could "restore the pride" and transform the Pacers into a team of citizens who fans could once again root for without feeling dirty. Management has spent the past several summers drafting mature, NBA-ready players, who while perhaps lacking the tremendous upside potential of some of their peers, would be men of character that the people of Indiana could be proud to applaud.

With Lance Stephenson, they deviated from that course and got a PR blackeye. And with this recent trouble for Brandon, someone who supposedly epitomized that ideal, they have gotten another one.

So it's back to familiar territory: damage control.
A quick look at the NBA's drug policy reveals that the drug Rush tested positive for was almost certainly marijuana — testing positive for cocaine, opiates, PCP, or amphetamines results in a dismissal from the NBA, while Marijuana only carries a five-game suspension after a third failed test. It's technically possible that this is Rush's first failed PED test, but the league is generally good about distinguishing PED suspensions from "regular" drug suspensions.
Obviously, casual marijuana is hardly grounds for hysteria in this day and age. But whether or not you believe Rush's use of marijuana kept him from doing his job to the best of his abilities, getting caught on three separate occasions certainly did. Forget about what Marijuana is or isn't — the fact is that Rush made a series of decisions that led to a five-game suspension and a PR hit for the last team in the NBA that needs a PR hit right now.