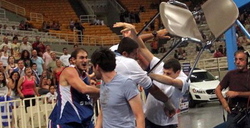 Oklahoma City center Nenad Krstic said he was worried that he would be suspended for his part in a huge Serbia/Greece brawl at a "friendly." Specifically the throwing the chair part.
He was right. FIBA announced suspensions today and Krstic will be out the first three games of the group stage of the World Championships. Greek players Greek players Antonis Fotsis and Sofoklis Schortsanitis and Serbian Milos Teodosic were suspended two games each.
The players all also were fined, in Krstic's case $45,000 Swiss Francs (which is interesting, considering FIBA is not a league that pays players but apparently can fine them).
The suspensions are well deserved, frankly (check out the video below). There was "Big Sofo" — Sofoklis Schortsanitis, all 6-9, 345 pounds of him — beating on some fallen Serbian player. Krstic tries to get Sofo off the fallen player by hitting Sofo in the back, but then Sofo turns on Krstic and the Serbian shows off his backpedaling skills. Until he gets to a chair he can throw, but that ends up hitting a Greek player who didn't even dress for the game. It's all kinds of ugly.
Greece is in Group C and its players will miss winnable games for them against China and Puerto Rico, but will be back for the showdown with host Turkey. That is a huge break for the Greeks.
Krstic will miss games Group A games against Angola, Germany (without Dirk Nowtizki) and Jordan. He will be there for games against Australia and Serbia.