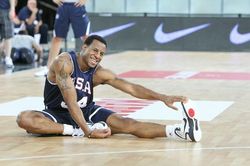 Previously I cautioned not to draw too many conclusions from the USA Basketball victory over Greece Wednesday. Greece sat its two best inside players, the USA quickly went deep into the bench and both teams kept it simple, trying not to tip their hand in the event of any future meetings.
Andre Iguodala, however, saw another step forward in the team's growth, particularly on the defensive end of the floor. That's what he put in his team diary, something he is doing for the Philadelphia Daily News.
I thought in (yesterday's) game (against Greece in Athens) we played really well. We got off to a good start, and our defense was really clicking. I think we held them to just one field goal in the first 6 minutes, or something like that. This was our best defensive game by far.

We have really come together as a team since we first got together in Las Vegas and have gotten a lot better, especially defensively. I think the reason is because we are getting more acclimated with each other. That is such a big part of any kind of success we're going to have when we start the championship games. I was talking to Lamar Odom about it, and he was saying that with the Lakers, he would go onto the court and for about 30 games, they didn't have to talk to each other out on the court because they were so in tune what each of them were supposed to do. I'd like for us to get close to that point, and I think it's coming.
For the record, when the Lakers stop talking on defense is when their defense falls apart. Odom is correct that the Lakers are a team with a lot of veterans that know each other, and because of that can fall into moments of silence because they understand what to expect from each other. But that silence almost always leads to breakdowns as picks don't get called out and the like. So Odom's point about knowing and trusting is correct, but you still have to talk.
Team USA's defense has been good, mostly because of the fantastic and long athletes on the squad that tend to overwhelm the competition. In the five warmup games so far, opposing teams are shooting just 37 percent against the USA. But this preseason — and really the next five games in the group stage — is about building unity, particularly on defense.
Because when it gets to the final 16, the one-and-done tournament stage of the FIBA World Championships, there can be no off nights. Then the defensive lapses mean you're on a plane home and Michael Wilbon is ripping you on PTI. The USA is a squad built to run, but running is built on defense. So far their half-court defense has been good and improving — the USA is running more zone and getting more comfortable with it — but they will run into teams better able to exploit it. Greece could be a team like that. The question about the Wednesday win is did the USA overwhelm them or did the Greeks not play their best? Or a little of both?
Either way, Iggy makes it clear that the USA is gaining confidence heading to Turkey, and that is a very good thing.