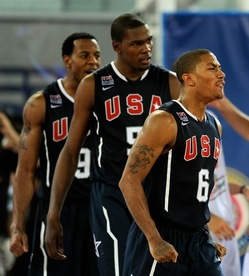 As the telltale economic numbers will eventually show, productivity was down across America on Wednesday afternoon. Such is the result of a nation shutting down to catch the riveting drama that is U.S.-Greece international basketball.
Or not.
Somehow, we're having a hard time getting caught up in World Championships fever.
So, for that matter, apparently is the Worldwide Leader, which will broadcast Saturday's U.S. opener in Turkey on ESPN Classic just after women's tennis from 1984 and just before college football from 2005. Apparently, filler was needed without another timeless episode of Stump the Schwab being available.
Look, I, like just about anyone else who stops by this space, could and would watch basketball 24/7/365.
But based on the roster the NBA (known as USA Basketball this time of year) has put together, exactly what type of World Championship is this?
The World Championship of Guys Who Mostly Never Will Be All-Stars?
Is it so wrong to admit that for this country the Olympics are everything?
Can an event have any significance if the last time your country won gold it had Derrick Coleman on its roster?
Considering we still have two more weeks of exhibition football, there is something to be said about sporting sustenance.
But also appreciate that unless the United States wins the gold medal, the event will provide no tangible benefit to what matters most for USA Basketball (otherwise known as the NBA the rest of the year) when it comes to the ultimate goal, gold at the 2012 London Games.
Only the World Championships champion receives an automatic Olympic berth. For everyone else, it's back to regional qualifying in 2011, which, for the U.S., would mean next summer's Tournament of the Americas in Argentina.
Consider also that there are four knockout rounds in Turkey, plenty of chances for that one slip-up.
As for "development" and "cohesion" and "camaraderie" and all those other Colangelo-Krzyzewski buzzwords we've been hearing this past month, how many members of this current roster truly are expected to be with the U.S. in London in 2012, when space will be cleared for Dwyane and Dwight, Kobe and Carmelo, among others?
How exactly is Derrick Rose running the floor with Kevin Love going to enhance his alley-oops to LeBron James?
Wednesday, America forced itself back to work after the artistry that was U.S. vs. Greece.
Saturday, just after Martina faces Chrissie on ESPN Classic (no spoiler alert necessary, we won't give away the result), and just before a five-year old Wolverines-Cornhuskers game is shown, the United States will participate in something that is being portrayed as part of its road to the Olympics.
But it's not.
It's just exhibition basketball.
Ira Winderman writes regularly for NBCSports.com and covers the Heat and the NBA for the South Florida Sun-Sentinel.