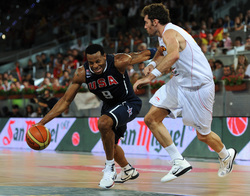 For the first half of the 1990s in the NFL, the NFC championship game was the defacto Super Bowl. Dallas and San Francisco (usually) played that game with everyone knowing full well they would crush whomever they met in the Super Bowl.
That's pretty much how the FIBA World Championships will go.
If the USA and Spain go undefeated in group play — which is very likely — then they are set on a collision course for the semi-finals. The USA is in Group B, the Spanish in Group D.
That means teams that win groups A and C — which may well be Greece (Wednesday's USA opponent) and Argentina — could be destined for the other semi-final. Those are two quality teams, but both considered a step down from the USA and Spain. (However, this is a one-and-done tournament after group play so they have a shot.)
The key for the Greeks is what kind of suspensions come down out of the brawl with Serbia from last week. As Chris Sheridan notes at ESPN, the Greeks are worried about it.
The Greek federation expects multi-game suspensions to be handed down to Sofoklis Schortsanitis, Antonis Fotsis and Kostas Tsartsaris that will begin with the start of the World Championship in Turkey on Saturday, and they are keeping their fingers crossed that those players will be suspended for no more than two games, which would allow them to play in Greece's third game of the tournament against Turkey…

Greece, which defeated Canada by 74 points, Russia by 38, Germany by 28 and Croatia by 9 in exhibition games prior to the fateful match against Serbia, feels it can defeat China and Puerto Rico in its first two games even without the soon-to-be-suspended players. But the third game against Turkey in front of a hostile crowd in the capital city of Ankara would be a toss-up if Greece has only nine players available.
Schortsanitis may get a suspension, but if I'm ever in a fight on the court I want him on my side. Really, any fight anywhere.