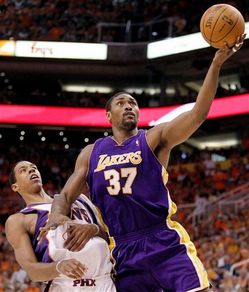 We told you yesterday Doc Rivers said the Lakers "still have not beaten our starting five," implying that if Kendrick Perkins had been healthy for Game 7 the outcome would have been different.
The Lakers were quiet on that. Phil Jackson probably didn't notice, Kobe Bryant probably mentally filed that away in the "anger/motivation" file to pull out when he needs it. But no public comments.
Until Ron Artest answered the call on twitter.
Boston lost to lakers because of Kendrick Perkins injury. What about in 08 when Bynum was injured. What about this year Bynum was injured

What about Kobe played with a broke finger …. What about Ron artest defense When the Boston staff said Ron artest was too slow

Doc got one million excuses.. Just come back this season a take what you want…

The lakers with Bynum in the playoffs healthy has not lost The same way whoever whatever hasn't Let's not mention the stats on lock down
Ron Artest is right. The "what if" injury game is a rabbit hole if you go down it. What if Andrew Bogut had been healthy for the Bucks this season? What if Tracy McGrady and Yao Ming had stayed healthy in Houston? What if LeBron's elbow had been fine against Boston… okay, bad example there. But you get the idea.
What did Yoda teach us? "Do, or do not. There is no try." The Jedi master would say the same thing about injuries. And you don't argue with Yoda.