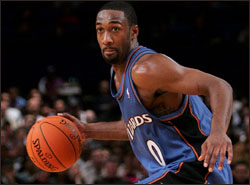 As is happening all over the nation right now, there was a high-level pickup game at the Verizon Center in Washington D.C. last night. Some NBA guys, some borderline NBA guys, probably some college guys, all getting together for a little run that makes your weekly YMCA game look woefully unathletic.
New Wizards owner Ted Leonsis was hanging out in the building last night — he owns it, he can hang out whenever he wants, thank you very much — and stumbled on said pickup game.
Where Gilbert Arenas was playing. This is what Leonsis said on his blog:
Gilbert Arenas played last night. It was a very good evening of basketball. Gil – our All-Star – matched up against another NBA All-Star. It was quite a show and quite a display of talent.

I won't comment yet on Gilbert or who was in the gym last night but suffice to say Gilbert looked trim, fit and explosive. His shot was sweet and he did one left handed dunk that was something to see. It had everyone talking. I was impressed and am happy.
Clearly Leonsis is not a scout and he has a vested interest in pumping up Gil and his game. Still…
Among the things I most look forward to seeing this season is how Arenas and John Wall mesh. With a healthy and focused Arenas and it potentially is one of the best backcourts in the game. Or it could go south, Tierra del Fuego south. Who knows? But it will be fun to watch.