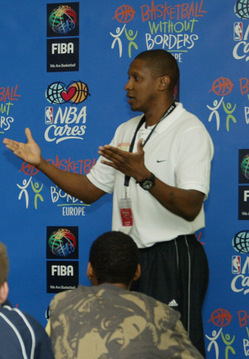 It didn't take long after David Griffin backed away for the Denver Nuggets to find their new general manager.
Masai Ujiri will be hired for the position, according to the Denver Post. Ujiri was a former Nugget scout who most recently was director of international scouting for the Toronto Raptors.
He will report directly to Josh Kroenke, the soon-to-be owner of the Nuggets who has injected himself into player personnel decisions and is expected to take a more active role in that area. Ujiri is a native of Nigeria who attended high school in the states, played his college ball at Montana State and played professionally in Europe.
He walks into a situation with a lot on his plate. Carmelo Anthony has an extension offer (three years, $65 million) that he has not touched waiting to see what direction the Nuggets take. There is also the issue of trying to move J.R. Smith, who had a scuffle with someone at a recent practice at the Nuggets facility (not a Nuggets employee, but a player in a pick-up game).
The question is how much power will Ujiri really have — Kroenke has asserted himself into the role of decision maker. That was part of what Griffin balked at (that and the money offered). But Ujiri knows players and the game, so he could be a good team with Kroenke.