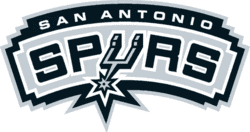 Danny Ferry left the Spurs front office in 2005 to try and build a team in Cleveland around Lebron James.
You can discuss amongst yourself how good a job he did — he hired a defensive-minded coach in Mike Brown then kept giving him talented guys who were weak on that end of the floor — but the fact of the matter is it didn't work out. At the end of this season he was let go by owner Dan Gilbert, so Gilbert himself could assert himself in the organization. And write letters in Comic Sans.
Ferry then interviewed with the Trail Blazers and Nets, but in the end he is headed back to the San Antonio Spurs to be assistant GM, that according to Adrian Wojnarowski of Yahoo.
This seems like a comfortable fit, a good spot for him. Another good mind in the Spurs front office. As if they needed that. He will almost certainly get another head job at some point, but for now he's in a place and organization he likes.