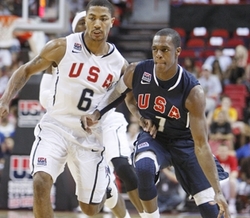 Rajon Rondo's DNP against Spain on Sunday could be read a number of ways. For my part, I naturally assumed that Rondo — who had started for Team USA up to that point and remains the team's top perimeter defender and most natural playmaker — was held out in an act of gamesmanship by Mike Krzyzewski. Rondo seems to have read the situation a bit differently.
From Chris Sheridan of ESPN.com:
Somebody is going to get cut from Team USA after Wednesday night's exhibition game against Greece, and Rajon Rondo has no illusions about where he stands. "I
think I'm on the bubble," Rondo said Tuesday. "Just looking at the
obvious — I got a DNP last game. That pretty much speaks for itself."

After losing his job as the starting point guard to Derrick Rose
last weekend in Madrid, Rondo's stock has fallen to the point where it
now appears he is third on the point guard depth chart behind Rose and Russell Westbrook.

…"It's not so much what Rajon has to show, it's what our team needs.
We've found a good lineup, and the international game is so different
from the NBA game, you can ask any of these guys," Krzyzewski said.
"Part of it is to make sure that we try not to have two non-shooters
out on the court, and there's the physicality, too."
Sheridan also notes that Krzyzewski seemed to indicate that Stephen Curry's roster spot is not in jeopardy. That would leave the presumed bubble list to include Rondo, Eric Gordon, Russell Westbrook, and possibly Danny Granger and Kevin Love, as well. After all, if Rondo's DNP against Spain is significant, why wouldn't Granger and Love (who also didn't play on Sunday) be safe?
Rondo certainly has his limitations (particularly on this roster, which is already saturated with guards), but his defensive value should have put him a step above Russell Westbrook. That clearly hasn't happened, and Rondo's turnovers and lack of a shooting stroke are no doubt to blame. K wisely bemoans having too many non-shooters on the floor at once, which isn't just one of those quirky FIBA problems, but a very real quandary on just about every level of basketball.
Lithuania packed the paint against Team USA, and putting Rondo on the floor empowers other opponents to do the same. Tyson Chandler isn't going to launch jumpers. Andre Iguodala and Lamar Odom are far too inconsistent from outside to be counted on. The number of reliable shooters on the roster is already a bit thin, which could make cutting Rondo — and saving Gordon or Granger, for example, in the process — an understandable move.
I just don't think it's the right one. It's clear that regardless of which player has the honor of being the final cut, Team USA will struggle at times offensively. That makes the Americans' pressure defense even more important; not only does their defensive philosophy hide the limited supply of bigs on Team USA's bench, but also it also creates more offense to compensate for those aforementioned struggles. That's where Rondo is an unquestionable boon. Maybe he is a bit careless with his passes and a bit wild with his jumper, but Team USA can live with both of those things as long as he steps up defensively.
Rondo doesn't need to play alongside Derrick Rose or Russell Westbrook. He just needs to play.