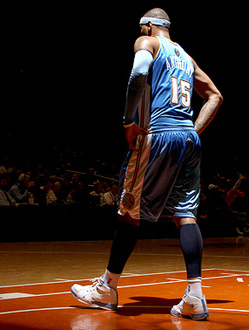 It still sits there on the table. The elephant in the room. The thing as subtle as an Oliver Stone film — three years, $65 million. Denver's contract extension offer to Carmelo Anthony. Which he has yet to sign.
Because it sits untouched trade rumors swirl. But the Nuggets don't want to ship him off, they want is him to sign it, to keep him a mile high. And by extension to keep themselves as contenders.
Last weekend Josh Kroenke — son of owner Stan Kroenke who may well take control of the team soon if Stan completes efforts to buy the St. Louis Rams — flew to Baltimore to sit down with Anthony and sell him on Denver, according to Adrian Wojnarowski of Yahoo. Kroenke wooed, but no resolution was reached — Anthony did not sign the deal.
Denver is expected to hire a general manager soon, with the Suns No. 2 man David Griffin still the frontrunner. As Dell Demps did with Chris Paul in New Orleans, Griffin (or whoever is hired) will sit down with Anthony and try to sell him on his vision, his plans. Even with that, it was important for Kroenke to make the effort as he is the guy that ultimately pulls the strings.
And all that may not be enough.
If Anthony is not going to sign that deal — and he should be clear with Denver of his intentions one way or the other — Denver has no choice but to trade him. They do not want to end up like Cleveland and Toronto, who are starting to rebuild from scratch after losing their superstars with little compensation.
But any trade would need to be an extend-and-trade with the deal Denver has on the table. Anthony could leave as a free agent at the end of the year and sign a new max deal under the new collective bargaining agreement (which will be approved after next summer's impending lockout), but that likely will cost him $15 million or more in lost wages. That's a lot of scratch.
Wojnarowski says that Houston is as or more desired of a landing spot by Anthony than New York. The Rockets certainly have pieces to trade for Anthony and it would give them a star player on the perimeter, someone who if matched with a healthy Yao Ming would make them very formidable.
But the Denver Post reports the Clippers are also in the mix. The belief is that Anthony wants to play in an entertainment hub because of his new wife, actress LaLa Vasquez. Los Angeles is that. And they certainly have talent on the roster to trade, although due to contract size center Chris Kaman almost certainly would have to be part of any deal. A stumbling block could be how insistent Denver would be on getting Blake Griffin.
Oh, and if Anthony would approve going to the Clippers. That may be the biggest hurdle of all — his side has never mentioned the Clippers, that came from Denver sources.